The first two weeks of my senior year in high school (12th grade, for any international readers) has left me super super busy that I've neglected my poor old blog. :( Fortunately, I have some outfit pictures to post! :) I'm going to try and keep it all short and sweet.
My first outfit, for the first day of school. So. Effing. Hot.
Second outfit, again... super hot.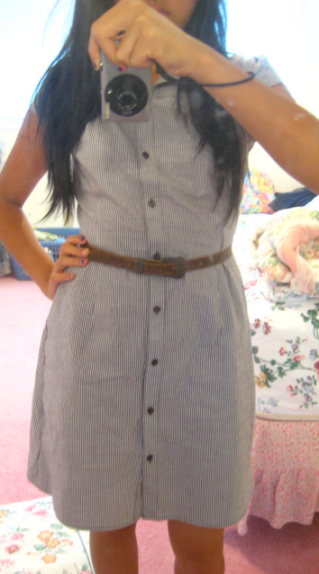 Third outfit, I wore this after my friend wore a shirt-dress, and we both decided on a collective day of shirt-dresses! We love confusing people. I did get a compliment from a friend, "I like your sh--, dress!" Haha.
Fourth outfit. I don't even know how I conceived this one. I know I wanted to wear blue leggings (much brighter irl) and white dress but it was far too short.. and then I wanted to try on the b/w polka dot pencil skirt and I hadn't taken off the white dress yet and blam I get this? Accidental outfits, ftw. I wore this to my friend's birthday girls-night-out (and yes that's a limo in the back!).
1- tank, hanes. belt, ??? came with a pair of old jeans. skirt, citiwear (trendy teen store).
2- shirt, arizona jean co. (mervyn's). belt, mervyn's. shorts, ??? don't remember.
3- shirt-dress, ally b. (mervyn's). belt, vintage.
4- dress, wet seal. belt, vintage. skirt, thrifted. tights, secondhand. shoes, mossimo/target. bag, a.n.a. (from mama). slip (not seen), handmade.
I've made a few purchases, most recently these
earrings
in black/silver from f21 in the midst of my birthday shopping for friends. Tryyying not to buy stuff (for myself) but it's so hard. :(
And what is it with me wanting to wear skirts and dresses all this week? I know it's a weird thing to think, but a little tidbit about myself: I play the cello. And for those of you who don't know, playing the cello requires you to sit down with your legs straddling the instrument. Aka me having to bring shorts with me everywhere I go, haha. Oh the things I do for fashion.
Anyhow, that's all I got so far. Btw, if you'd liked to be added to my blogroll, leave a comment. Have a good day, lovelies.